The Journal of the Western Mystery Tradition is saddened to announce the unexpected death this past July 25th of Vincent Bridges, who was one of our regular contributors for many years.  He died in Prague, the Czech Republic, only hours before his play "The Donkey and the Cradle" was to be performed at the Donkey in the Cradle, one of  Sir Edward Kelley's historic residences.
The show's Facebook page still announces the cancellation of the play "due to tragic circumstances."
A native of Greenville, South Carolina, Bridges chose to live the last few years of his life in Europe, mainly in Prague.  He left behind a large body of unfinished work, including a biography of Edward Kelley (The Alchemical Enigma: A Brief History of the Rise and Fall of Sir Edward Kelley), a novel featuring young William Shakespeare (Young Will: Shakespeare's Lost Years in Prague), different videos and notes of the lectures and tours he gave in the Czech Republic and France, and plans for a second work on Ophanic (or Enochian) magic based on seminars he'd taught in Italy and the Czech Republic.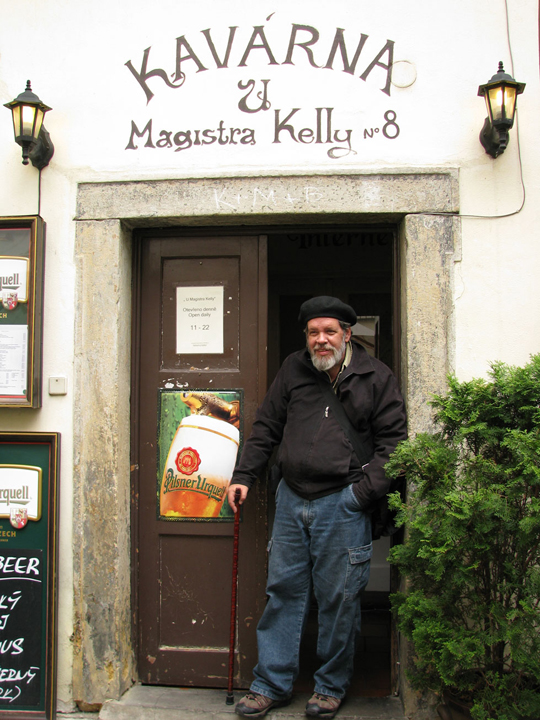 Vincent Bridges at the Donkey and the Cradle, Czech Republic, in 2011
According to his .eu site, Vincent's biography of Kelley "was used as the basis for the Edward Kelley section of the Museum Of Alchemists and Magicians of Old Prague, at 8 Jansky vresk, where [Bridges] had the pleasure of living, along with the ghosts, for two delightful years."
He never objected to people posting raw excerpts from his many lectures, on subjects ranging from alchemy to Shakespeare to sacred geometry to the geomancy of Prague and the Czech Republic, and it was clear to those who knew him that Bridges was driven to share what he knew using whatever tools or resources were available.  He was a master storyteller who was unusually gifted in his ability to draw together different historical strands into entertaining, informative narratives.
Bridges was best know to U.S. audiences as the on-camera guide for the History Channel's documentary Nostradamus: 500 Years Later (2003); the featured historian for the Lost Book of Nostradamus (2007) and Nostradamus 2012; and short commentaries on several other shows.  With Jay Weidner, he co-authored The Mysteries of the Great Cross of Hendaye (2003), taking the lead on revising their earlier work, A Monument to the End of Time (2000).
Several of the articles Bridges wrote for this Journal were anthologized with other works in The Ophanic Revelation, the Science of Angelic Communication.  The Italian edition of this work, La Rivelazione Ofenica (2010) sold out its first printing within months of its release.
"Vincent had a deeper understanding of the Enochian system than anyone I've ever met," said J. Alan Moore.  "Most notable to me as a practical magician was his understanding of the processes by which the Enochian system functions.  He was able to logically explicate Enochian (or Ophanic, as he preferred to call it) magick in terms of the underlying multi-dimensional framework which the artifacts associated with it create and by which its effects are produced."
"His approach was unique.  For two weeks in 2010, from October 22 to November 4, Vincent was kind enough to walk us through his understanding of how to construct an Enochian Temple, and let us record him.  We wondered if he realized he might not be teaching again in the United States, as almost all of his work after that was done in Europe as part of workshops and tours.   In any case, he seemed driven to get as many of his ideas out as possible, and was so excited that his play was about to be performed in the very place where it was set, and where Vincent had lived.  As long as I knew him, I never saw Vincent as happy as he was in Prague."
For those who wish to leave words of condolence for Vincent's family, there is a guest book on legacy.com.
The articles Vincent Bridges wrote for the Journal of the Western Mystery Tradition are listed below.
Reading the Green Language of Light  (2003)
Paganism in Provence:  How the Mother-Goddess Became the Mother of God (2004)
Editorial:  Olympic Magick; A Global Ritual for the End of Time (2004)
Angel Magick, Dee's Rosie Crucian Secrets and the Byrom Collection: Fragmentation and Transmission in the 18th century (2006)
The Consecrated Little Book of Black Venus part two: Olympic Spirits, the Cult of the Dark Goddess, and the Seal of Ameth (with Teresa Burns) (2007)
Angels in the DNA: The Emerald Modem and Dr. Dee's Ophanic Language (2008)
Lost Legends: The Great Beast and the Occult Origins of the Great War (2009)